Recipe: Boeuf Bourguignon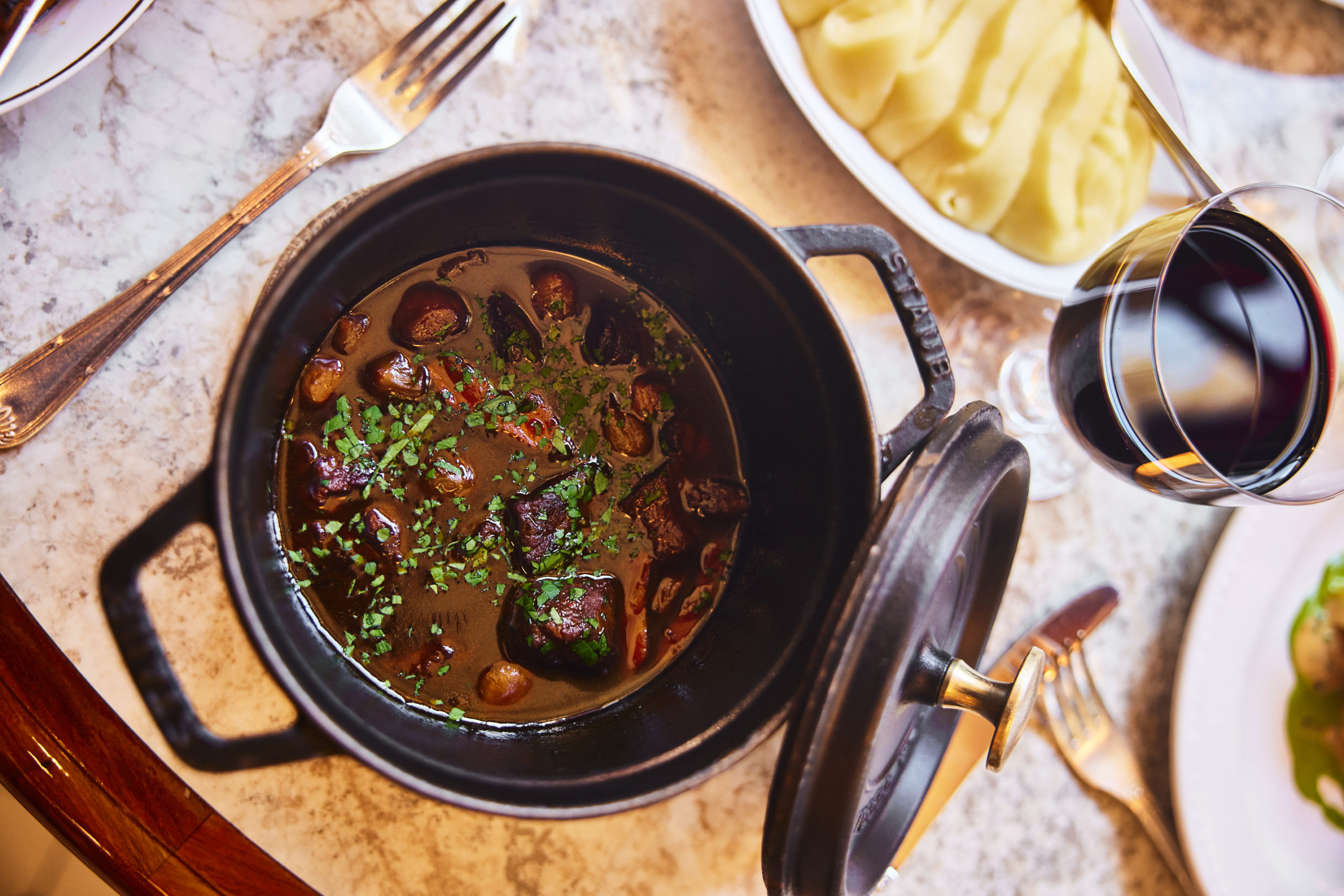 RICH AND COMFORTING, OUR BOEUF BOURGUIGNON IS A FIRM SOUTINE FAVOURITE. CHEF MACIEJ SHARES HIS RECIPE BELOW.
Ingredients 
Serves 4
1 kg diced beef
50 ml sunflower oil or as needed
1 large onion, chopped
3 garlic cloves, chopped
750 ml red wine
50g tomato purée
500 ml beef stock
3 large bay leaves
5g fresh thyme
50g butter
300g baby onions
400g button mushrooms, quartered
30g cornflour plus 50ml cold water to mix
sea salt and black pepper to season
chopped parsley, to finish
Method
1. Preheat the oven to 145C.
2. Season the beef with salt and pepper.
3. Heat the sunflower oil in a frying pan and when hot, fry the beef in small batches over medium heat until golden brown. Then transfer to a large casserole dish to rest.
4. Add more sunflower oil into the pan and fry the chopped onions until softened – for approximately 5 minutes. Then add the garlic and continue cooking for 2-3 minutes.
5. Place the casserole dish on the hob over medium heat and transfer the cooked onions and garlic into the dish and pour over the red wine. Add in the tomato purée and cover with beef stock.
6. Then add chopped cloves, bay leaves and thyme and bring to a simmer.
7. Once the dish is simmering, cover with a lid, remove from the hob and transfer to the oven. Cook for 1.5 hours or until beef is tender.
8. While the beef is cooking, peel the baby onions and boil in salted water for 5 min. Once cooked, drain and set aside to let cool.
9. Then on medium heat, melt butter in a large frying pan with sunflowers oil and fry the onions over a medium heat for about 5 minutes, or until golden. Then add the button mushrooms to the pan and cook for another 5 minutes.
10. In a separate bowl, mix the cornflour into the cold water until smooth. Then remove the casserole dish from the oven and stir in the cornflour mixture, followed by the onions and mushrooms.
11. Place the casserole dish back onto the hob over medium heat and bring back to a low boil until the sauce has thickened.
12. Once cooked, plate and serve with mashed potatoes and finish with freshly chopped parsley.