Behind the scenes with Sharon Allchild, our Senior Maitre D'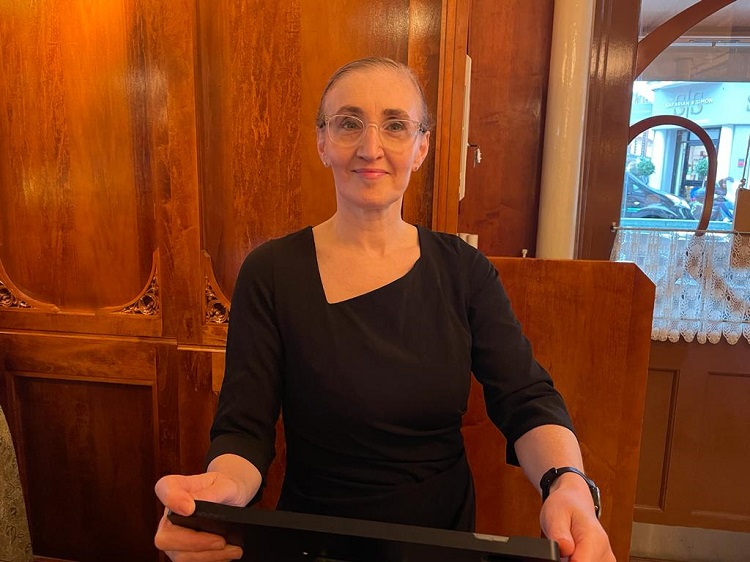 Sharon Paula Allchild made the move to hospitality later on in life after a successful career in education and then retail, which made her realise being around people is what made her tick. Since 2019, she's been at Soutine in St John's Wood, where she's now Senior Maitre D'. Here, she shares a little more about her journey to hospitality and why it's never too late to try something new…
Tell us a little about yourself…
Well I'm now 52 years old, born and raised in London, and for 28 years of my life I worked as a nursery nurse while I raised my family. Then I decided I wanted to change career and I moved on to retail. I worked at the Whittard's flagship, serving customers, making coffees and getting to know my regulars…I started thinking about what do I really love about this – and the answer was "the people", so why not make the move to hospitality?
How long have you been working in hospitality – what keeps you in the industry?
Since 2019, so about two and a half years now! I'm still relatively new to the industry and I love it. Soutine is actually the first restaurant I've ever worked in… Every day is different and that's what keeps me coming back.
What first drew you to working at Corbin and King?
Corbin & King is so prestigious and their attention to detail in their restaurants is like no other; they think outside of the box… I saw one advert for a new restaurant, Soutine, opening up in St. John's Wood and I thought "wow!", it seemed like a really great opportunity and I thought that's something I want to do!
I actually knew the area really well being Jewish and am a big fan of Chaïm Soutine the artist, so I put all of this in the cover letter – I wasn't sure if they'd take a chance on me as I didn't have any hospitality experience, but thankfully they did and here I am.
What do you like most about working in a diverse team?
Here at Soutine our team is really diverse, not just in age, but also in terms of background and knowledge. I'm always learning on the job from my team, they're like my mentors and we all share our life experiences with each other!
What's your favourite thing about working at Soutine?
It's such a wonderful environment to walk into every day in an amazing neighbourhood. I feel like I can truly be myself – it's like a second family here. Daniel Craig (General Manager of Soutine) is my main mentor, he has so much experience in hospitality and he's taught and shown me so much.
It really is a bit like going on stage every time you step into service, and now I have my daily customers who I know so well – I even know their dogs by name! It's all about the people really, I love working with my colleagues and sending customers away happy makes you feel good.
When you're not at Soutine, where can we find you?
I love long walks along the Thames and all that London has to offer from galleries, to theatre, films and art and dancing… I also love dancing, especially salsa and cha cha!
You can also find me by the sea at all times of year – one of my favourites has to be Leigh-on-Sea in Essex, starting in Old Leigh and ending with fish and chips.
And, finally, what one piece of advice or encouragement would you give to any older workers who are interested in making the move to hospitality?
Go for it… The older you get the more experience you have. Everything you've done so far is not lost, we all have transferable skills. There are so many roles available in hospitality and you may just find the perfect role for you, like I have!
Corbin & King is sponsoring National Older Workers' Week 2021. Taking place from 22nd to 26th November, it is an opportunity to showcase and celebrate our multigenerational workforce – and why hospitality is a welcoming environment for all. Over the course of the week, we will be sharing stories from our staff; and Sharon's is just one of them.
If you're interested in joining Corbin & King, take a look at our current vacancies.